IBM Data Analyst Professional Certificate
Unlock your potential in data analytics. Build job-ready skills for an in-demand career as a data analyst. No degree or prior experience required.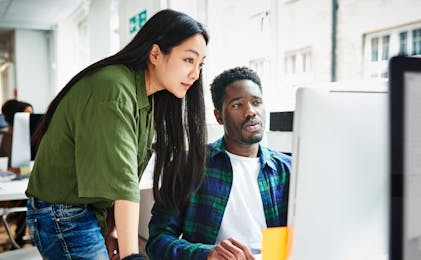 9,485 ratings
84,868 already enrolled
11 Months
Under 3 hours of study a week
English
Subtitles: English, Arabic, French, Portuguese (European), Italian, Vietnamese, German, Russian, Spanish, Korean, Persian, Turkish
Beginner Level
No prior experience required.
Build job-ready skills by learning from the best
Get started in the high-growth field of data analytics with a professional certificate from IBM. Learn the core principles of data analysis and gain experience with data manipulation, analytical techniques, and working with a variety of data sources.
Common job titles: Data Analyst, Associate Data Analyst, Junior Data Analyst, Finance Analyst, Operations Analyst, Data Technician, Business Performance Analyst, Marketing Analyst
¹Burning Glass Labor Insight Report data (median with 0-2 years experience), United States, 4/1/21-3/31/22.
²Based on Cousera learner outcome survey responses, United States, 2021.
$61,200
median entry-level salary¹
39%
of certificate grads started a new career²
104,485
in-demand job openings in data analytics¹
¹Burning Glass Labor Insight Report data (median with 0-2 years experience), United States, 4/1/21-3/31/22.
²Based on Cousera learner outcome survey responses, United States, 2021.
Skills you will gain
Microsoft Excel

Python Programming

Data Analysis

Data Visualization (DataViz)

SQL

Data Science

Spreadsheet

Pivot Table

IBM Cognos Analytics

Dashboard

Pandas

Numpy
About this Professional Certificate
Gain the job-ready skills for an entry-level data analyst role through this Professional Certificate from IBM and position yourself competitively in the thriving job market for data analysts, which will see a 20% growth until 2028 (U.S. Bureau of Labor Statistics).
Power your data analyst career by learning the core principles of data analysis and gaining hands-on skills practice. You'll work with a variety of data sources, project scenarios, and data analysis tools, including Excel, SQL, Python, Jupyter Notebooks, and Cognos Analytics, gaining practical experience with data manipulation and applying analytical techniques.
This Professional Certificate does not require any prior programming or statistical skills, and is suitable for learners with or without college degrees. All you need to get started is basic computer literacy, high school math, comfort working with numbers, willingness to learn, and a desire to enrich your profile with valuable skills.
Upon successful completion of this program, you'll have analyzed real-world datasets, created interactive dashboards, and presented reports to share your findings, giving you the confidence and the portfolio to begin a career as an associate or junior data analyst. You'll also build the foundation for other data disciplines such as data science or data engineering.
This program is ACE® recommended—when you complete, you can earn up to 12 college credits.
What you will learn
Demonstrate proficiency in using spreadsheets and utilizing Excel to perform a variety of data analysis tasks like data wrangling and data mining

Create various charts and plots in Excel & work with IBM Cognos Analytics to build dashboards. Visualize data using Python libraries like Matplotlib

Develop working knowledge of Python language for analyzing data using Python libraries like Pandas and Numpy, and invoke APIs and Web Services

Describe data ecosystem and Compose queries to access data in cloud databases using SQL and Python from Jupyter notebooks
What is a Professional Certificate?
Build the Skills to Get Job Ready
Whether you're looking to start a new career, or change your current one, Professional Certificates on Coursera help you become job ready. Learn at your own pace, whenever and wherever it's most convenient for you. Enroll today and explore a new career path with a 7 day free trial. You can pause your learning or end your subscription at any time.
Hands-On Projects
Apply your skills with hands-on projects and build a portfolio that showcases your job readiness to potential employers. You'll need to successfully finish the project(s) to earn your Certificate.
Earn a Career Credential
When you complete all of the courses in the program, you'll earn a Certificate to share with your professional network as well as unlock access to career support resources to help you kickstart your new career. Many Professional Certificates have hiring partners that recognize the Professional Certificate credential and others can help prepare you for a certification exam. You can find more information on individual Professional Certificate pages where it applies. Offered by

IBM Skills Network
IBM is the global leader in business transformation through an open hybrid cloud platform and AI, serving clients in more than 170 countries around the world. Today 47 of the Fortune 50 Companies rely on the IBM Cloud to run their business, and IBM Watson enterprise AI is hard at work in more than 30,000 engagements. IBM is also one of the world's most vital corporate research organizations, with 28 consecutive years of patent leadership. Above all, guided by principles for trust and transparency and support for a more inclusive society, IBM is committed to being a responsible technology innovator and a force for good in the world.
Frequently Asked Questions
What is the refund policy?

Can I just enroll in a single course?

Is this course really 100% online? Do I need to attend any classes in person?

What jobs can I get with data analytics skills?

How long does it take to complete the Professional Certificate?

What background knowledge is necessary?

Do I need to take the courses in a specific order?

What will I be able to do upon completing the Professional Certificate?

Can I get college credit for taking the IBM Data Analyst Professional Certificate?

How do you share your proof of completion with the educational institutions for transferring credit?

Where can I find more information on ACE credit recommendations?
More questions? Visit the Learner Help Center.